Okefenokee Adventure
Copyright by Deb Hawkins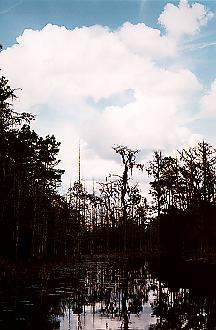 DEB'S KAYAK JOURNAL
Trip: 3-Day Okefenokee Swamp Kayak Camping Adventure
Date: Monday February 19, thru Wednesday February 21, 1996
Who: Deb Hawkins and Todd Quillen
Put-In: Suwannee Canal Entrance to the Okefenokee Swamp, Folkston, Georgia
The Okefenokee Swamp conjures up images of moss-covered cypress trees, dark murky slow-moving water, slimy creatures of all shapes and sizes, and every insect known to man. It is all of these things but also much more. I think everyone has some preconceived expectations about the Okefenokee. I certainly did. I've lived in Florida for most of my life but never made the trip to the swamp. Last summer, Todd (a friend of mine) and I discussed the possibility of an Okefenokee kayak trip. We tossed the idea around a bit but never actually committed to going. Last November, however, I started getting information together about camping and kayaking in the swamp. The more I learned, the more I wanted to go. I talked to Todd and said I didn't want to just talk about it, I really wanted to go. He agreed so I called and got reservations for December 18th-20th. Unfortunately, when the Federal Government shut down, our trip was cancelled but I was able to schedule another trip for Feb. 19th - 21st and I hoped for the best.
I arranged to take the three days off work and Todd worked his schedule out so he could go. We made plans to meet at the intersection of I-295 and US-1 in Jacksonville and we planned to take two cars to avoid a pretty expensive shuttle. We met at a Handy-Way near the interstate at around 7:45. We drove up to Folkston, Georgia and checked in at the Suwannee Canal Entrance to the swamp. It is a privately run concession that offers guided tours and also rents canoes and camping equipment. There is a $4.00 charge per car for each car left at the canal entrance. There is also a $2.50 charge per boat launched at their ramp. Not too bad.
We unloaded the boats and gear from my truck and piled everything up by the boat ramp. We shuttled my truck to the take-out which was about 15 miles north of Folkston at a place called Kingfisher Landing. It is a tiny boat ramp and small parking lot that is gated at night so I felt reasonably secure leaving the truck there. We went back to the Suwannee Canal, parked Todd's car, and packed the boats. We had managed to get all of our stuff in 8 dry bags of various sizes which we then crammed into and onto the kayaks. What didn't go into the boats was strapped onto the deck behind the seat or under the bungee cords on the front deck.
We got underway a little late. The people at the canal recommend that overnight campers be on the water no later than 10:00 AM. We were not on the water until after 11:00 but I can usually sustain a steady 4 mph pace for several hours if necessary. I didn't think there would be any difficulty in reaching our designated campsite before dark. I had made arrangements with the reservation person to do trail #4 in reverse so that our longest day of paddling (13 miles) would be day one when we were the least tired. Our trip was a 30 mile stretch of canoe trails through the east-central part of the swamp. It was well marked for the most part with color-coded markers at 1 mile increments. In areas where the channel was not well defined, wood stakes with white paint helped mark the way. The weather on the first day was in the mid 40's, sunny and slightly windy. The first 7 miles of our trip was in the actual canal. It is a man-made channel that is fairly straight for most of the way. The guided tours use the canal so we had to contend with a few slow-moving outboard boats for the first hour or so. We were taking our time and although neither of us said it, we were both getting the impression that our trip might be a little too pre-packaged since we were obviously paddling in a well-traveled, man-made waterway.
We could see a pretty good distance ahead of us and both of us noticed what appeared to be a stump or a clump of weeds about 75 yards downstream. I jokingly said "that looks like a hippopotamus." About then, it started to move and we realized that it was a huge alligator. It's head was at least 15 inches wide and part of his back was exposed too. This thing had to weigh over 800 pounds. We couldn't really judge the length of this monster since he was mostly submerged but it was definitely one of the largest alligators I have ever seen. We continued to paddle slowly toward it and as we approached it, it went under. With no alternative, we held our breath and passed over the spot where we saw him disappear.
Within about an hour we saw 2 more alligators in the canal. One was roughly 8 feet long and was laying up on some dry grass so we were able to see his entire body. I thought it a bit odd that we were seeing alligators since the air temperature was still rather cool. It was sunny however so I guess that explains it. It was also predicted that the high for the day would be in the mid 70s so I anticipated seeing a lot more gators. We stopped for lunch at a cleared area with a covered picnic table and an outhouse nearby. We stretched our legs and ate peanut butter and jelly on bagels, "GREG'S" vanilla creme cookies (a paddling tradition) and carrot sticks. We got back on the water around 1:30 or so.
Between mile markers 6 and 7 (I think), our trail cut off the canal and turned north. At this point, everything changed. We came out onto Mizell Prairie. It was actually an big marsh with patches of almost dry grass, surrounded by shallow water blanketed by lily pads, and numerous stands of bald cypress which have dropped their needles by this time of the year. They looked a lot like a bunch of tall skinny skeletons and added much to the overall eeriness of the Okefenokee. Since no motor boats are allowed on the canoe trails (except for the Suwannee Canal) and only one camping party is allowed on each trail, I soon forgot about the pre-packaged atmosphere of the Canal. I began to realize how remote and wild this place really is. It started to hit me that we probably wouldn't see another person until we left the swamp. As we crossed the prairie, the wind picked up considerably. We could see several miles across the prairie and the sun was getting low in the sky. We began to see alligators laying out in the sun all around us. Most were tens of meters away and didn't bother to move as we went by. Those right next to the trail slipped easily into the water and disappeared leaving only a few bubbles in their wake. We shot a few pictures and kept moving.
We reached the platform designated as our campsite. It was much nicer than I had expected. It was about 30 inches over the water and surrounded by water, lily pads and grasses. We got out of the boats, tied them off, and checked things out. Since we were out in the open, the wind was really whipping. We unloaded the boats and set up the tent. We used bungee cords to anchor the tent to the frame of the platform, which had a roof over roughly half of its area. We threw some of our gear in it just to be sure that it didn't blow away. Our forecast had predicted that a storm would move through that night and we planned to sleep outside of the tent until the weather forced us inside. Since the wind was blowing so hard, we didn't expect the bugs to be a problem. They weren't...
We got settled in and unpacked the stuff for dinner. It was too early to cook so Todd read a book and I wrote in my trip journal for a while and snacked on Ritz crackers and carrot sticks. One little alligator came over near the platform to check us out. Since we didn't offer it any food, it quickly lost interest in us. When we got around to cooking, we had to make a wind screen out of our sleeping pads to get the stove to stay lit. Dinner consisted of Lipton pasta and cheese. We added a can of tuna, some broccoli, and snow peas that I got at the farmer's market. We ate dinner, which got cold too fast, and Todd cleaned up the dishes. It was completely dark by now so we climbed in our sleeping bags and listened to owls and sandhill cranes chattering and we talked 'til we fell asleep. I woke up around midnight to rain pelting my face and sleeping bag. I woke Todd and we jumped in the tent. We spent the rest of the night listening to the wind whip the tent around and the rain pound on the tin roof of the platform. Very high winds but luckily no lightning.
I woke up before sunrise and listened to the sounds of the swamp-dwellers waking up combined with the godawful sound of Todd snoring contently in his bag. I watched the sun come up through the window of the tent then tried to go back to sleep. It didn't happen so I got up and started messing around with breakfast; instant oatmeal and a cup of tea.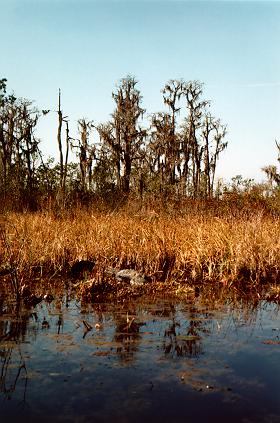 We packed up our stuff and got back on the water by 10:30. We spent several hours crossing the prairie and encountered more alligators, wood ducks, sand hill cranes, herons, vultures, and an otter. Todd and I split up and put a couple of hundred meters between us to get the sensation that we were totally alone, and were soon out of sight of each other. I paddled along looking ahead and left and right for wildlife. I saw an alligator about 50 meters away and decided to drift along quietly until I could get a good picture. He remained where he was, up on a grassy mound and I don't think he saw or heard me. Todd was somewhere behind and to the left of me and I couldn't see him. As I watched the gator, an otter popped up about 10 feet away from it with a fish in its mouth. It must have seen me when I raised the camera because it ducked underwater and swam over to another floating island. I don't know if it saw the alligator or not but I'd like to think I saved its life. The whole incident took about 30 seconds and unfortunately Todd missed it. He left the trail and went off searching for wildlife. In the meantime, all the wildlife was hanging out on the trail. I tried to get a picture of the otter but he was pretty far away.

By mid day on day two, we both had headaches. Todd thought it might be mild seasickness or dehydration. I think we were both suffering from caffeine withdrawal since we hadn't had any in over 24 hours and I drink coffee every day. We stopped for a quick lunch and each took 2 aspirin and were good to go.

Day two's paddle was a shorter distance than day one, around 10 miles. We felt we would probably get to the campsite earlier than the previous day. We were making good time until we came to a part of the trail that became very narrow. This was the last 2 miles or so of the day. The narrowness of the channel forced us to give up paddling since the paddles were twice as long as the channel was wide. Also, the canopy over the trail was only a couple of feet above our heads. We ditched the paddles and started pulling ourselves along by grabbing cypress knees, tree branches, roots, or whatever we could find. The swamp on either side of the trail was getting thicker and thicker and a whole new collection of plants grew here that was completely different from the open marsh that we had just left.. As it turned out, the person lucky enough to be in front got to clear the path of spider webs. Creepy...

Todd took point first and we crawled along for what was probably a little more than a mile. The trail was very sinuous and it took a while to get the hang of the horizontal pole vaulting method of forward progress. The channel was very shallow. Probably less than 8 inches for most of the way and there were numerous logs obstructing the channel. Todd at one point was using his hands on the bottom to propel himself forward. I wasn't too keen on that idea so I broke down my paddle and used one half sort of like a canoe paddle. We took turns being in front, since it was only fair that we share spider duty. We tried not to think about snakes and alligators in this tiny space since we already had enough to deal with. I think we covered the last mile and a half in about three hours and we had no idea where the end of the trail was since several of the mile markers were missing on this part of our route.

It all worked out and we came out the other end of the trail very close to our second night campsite. We tried to imagine what it would be like trying to navigate that part of the trail in the dark. This was a recurring theme in many of our conversations during our stay in the swamp. We played the "What If" game a lot and talked about possible things that could happen to someone out here and how far from help you would be. That kind of realization is part of a true wilderness experience. A little humility is a good thing sometimes. We weren't really trying to scare each other, we were just making observations about our situation and what a strange feeling it is to be utterly vulnerable to the environment; to have only your common sense, and whatever you can fit in your kayak to keep you safe. We talked about how dependant we were on my little temperamental stove and that tiny bottle of fuel. We thought about the water we were carrying and how quickly our fuel would run out if we had to boil water to drink in the event that we ran out of the water we carried in.

Prior to our trip, I heard about a man missing in the swamp for a couple of weeks. The refuge staff found his canoe on one of the islands but so far he has not turned up. I wondered if he was still alive and if so, where was he and what was he doing. We joked about him showing up at our campsite and joining us for dinner. eek...

When we arrived at the platform, a little gator came up and hung around while we set up our stuff. He had obviously been fed by previous campers and expected us to fork over the goods... NOPE!!!

The second night campsite was not maintained as well as the first. It was in serious need of some new floor boards and the posts holding up the roof were all leaning toward the southwest at a few degrees. The platform was not surrounded by water on all sides. The canoe trail channel was directly in front of the platform but the other three sides were muddy grass/marsh. the grass was crisscrossed with paths made by alligators and I looked doubtfully at the distance between the ground and the platform and I told myself that "ALLIGATORS DON'T CLIMB." We unloaded the boats and Todd tied them off. We watched a gorgeous pink, orange, and purple sunset then set up the tent. There was no wind and almost immediately after we arrived on the platform the swarm of mosquitoes showed up for dinner. They weren't too bad and we quickly got our act together and got settled in. I had made spaghetti sauce before the trip and frozen it in a Nalgene bottle. It stayed frozen in our little cooler until day 2. We boiled water on the little stove and cooked angel hair pasta. Todd drained the water off and we added the sauce. It was the best spaghetti I've had in a while. Todd insisted that I cook all of the pasta so we ended up with enough spaghetti for about 10 people. We each scarfed down a bunch and wondered what to do about the leftovers.

We finally decided to leave the spaghetti in the pot and cover it up. I had a feeling we would have visitors later but Todd didn't seem too worried about it. It was really dark by the time we finished eating and cleaned up the mess. There were a zillion stars visible and we sat out on the platform to watch for shooting stars. Todd pointed out the big dipper, the little dipper, the north star, and Orion constellations. We watched some really high planes go over flying north and south but we never saw any satellites. We saw a few faint meteorites burn up directly overhead. I must have eaten too fast cause my stomach wouldn't shut up. It growled continuously for about an hour and I hoped I wasn't going to get sick. I already had a sore throat and a cold but was still denying that I was getting sick.

Todd was determined to sleep outside the tent but I had no desire to be carried off by the bugs. I climbed into the tent and zipped up the door but left the screened window open so I could see out. It was around 10:00 at this point. At about 10:15, I heard something scurrying around on the platform and the sound of stuff being moved around. I whispered to Todd who was already asleep "did you hear that?" Of course he hadn't. I said I thought a raccoon was in our stuff. He said he hadn't heard anything but decided to get in the tent claiming that the bugs were too much. About 5 minutes after he was settled in, I heard that same noise again and got up to investigate. Todd still didn't believe that there was anything outside the tent. We had left our gear pretty much strewn all over the platform. I gathered everything that I thought a raccoon might be able to carry away and put it in the dry bags. These I hung up on nails around the posts holding the roof up. I couldn't really see very well so I stuck everything wherever and crawled back into the tent. I never heard anything else on the platform that night. After I was back in the tent for the night, I heard the first alligator bellow. It was really loud and really close. It was a long low sound that went on for a few seconds. It was immediately answered by another alligator some distance away. Soon there were several alligators bellowing back and forth along with a chorus of owls. It was a strange feeling to be in a flimsy nylon cocoon surrounded on every side by these huge throwbacks to the Cretaceous. I don't know how I did it but I managed to get one of the best nights of sleep I can remember. Maybe I need a harder mattress at home...

I woke up around 7:30 and thought it was raining in the tent. It wasn't but there was enough condensation on the inside of the tent to give that impression. Since we set the tent up under the roof, I felt no need to use the fly. When I looked outside, the fog was very thick. Visibility was probably only 50 meters at that point but the sun was on the way up and I knew it wouldn't last. The spider webs were loaded with little droplets of water and fortunately our gear was put away because it would have been soaked too. I stayed in the tent until close to 9:00. Todd woke up and we started getting our stuff together and he discovered that a banana was missing; my only proof that we had company in the night.

We cooked oatmeal and hot chocolate for breakfast and quickly cleaned up, packed our gear, and loaded the boats. We were on the water by 10:00 once again and I hoped that we would have an easier day of paddling than the day before. We estimated that we had about 8 miles left to go. We had no idea what to expect. We might have a nice clear channel to paddle in, which would have us off the water around lunchtime OR we might end up paddling through more of the same stuff we encountered the day before where we were unable to paddle at all and had to use our hands to pull ourselves along. As it turned out, we had a little of both. There were places that were definitely too narrow to paddle comfortably but for the most part we had a 10 to 15 foot shallow channel. We paddled across several "lakes" which were really shallow open marshy areas. We saw more lounging lizards on the banks of the channel and we took some pictures. We spooked several pairs of wood ducks and a big white egret or heron but they always took off before we could get close enough for a picture.

At one point, we stopped so Todd could climb a tree to get some pictures. I reluctantly handed him my dad's Canon which he tucked inside his shirt and up he went about 30 feet. He shot the last few pictures of a roll of film then came back down. I mumbled something about a heart attack and we continued on our way.

The final 4 miles of the trail was much wider and deeper. I think part of it was a man-made canal. Todd was paddling about 50 meters ahead out of my line of sight. He surprised a sleeping gator which dove into the water only a few feet from his boat. It startled both of them a lot.

We stopped for lunch along the bank. Todd fixed the last PBJ bagel for himself and I ate the last of the carrots. I wasn't really hungry but we needed a water break anyway. After lunch, we headed back onto the water. I guess we were both ready to get off the water because we both picked up the pace and covered the last 2 or 3 miles at a little over 4 miles per hour. There was room in this part of the channel to paddle side by side without interfering with each other.

We got to the boat ramp at about 1:30 PM. There were some locals having a picnic and since Todd and I hadn't spoken to anyone but each other for 3 days, we were more than happy to answer their questions. The kayaks were filthy from the mud and weeds slung up on the decks by us thrashing through the mucky slime. We unloaded the boats and put them on my truck. I asked one of the picnic people to take a few pictures then we headed back to the Suwannee Canal to pick up Todd's car. We each bought something to drink and headed back out to US-1 toward Jacksonville. This was one of the most memorable trips I've ever done. I highly recommend it.

OKEFENOKEE IMPRESSIONS

There is an uneasy peace in the Okefenokee. Since I first began paddling my kayak, I have felt like I could move about on the water and have only a slight impact on my surroundings. I think we as kayakers have a tendency to be a bit self-righteous about how lightly we tread in a world populated by 200 horsepower bass boats, ski boats, and jet skis. We glide silently and almost effortlessly over glassy water and lull ourselves into believing we really fit in here. Certainly I have been guilty of this. My trip into the Okefenokee has forced me to rethink this view.

As I left the Suwannee Canal and entered the real Okefenokee, I felt like I had just punctured the skin of a living thing; the plants and animals merely the body parts of a large organism. As I spent time paddling through the arteries of this creature, I thought I could hear a voice whispering "go away, you don't belong here." It wasn't that I felt threatened in any real way, but more like a feeling that I was only being tolerated, like a petulant child whose parents don't have the good sense to keep her out of mischief; and that I was being "allowed" to go on my way. I have tried to pinpoint the feeling that I had while paddling in the Swamp. I don't think it was fear; I never felt frightened, only cautious, and wary, and very much alive as we encountered large alligators, or spider-infested thickets, or listened to the evening sounds of this giant creature as we tried to sleep within it. It was more like a series of realizations about our place in this remote and harsh island of wildness. I think it is a natural and very human response to feel uneasy when you find yourself in a place where your options are quite limited should you get into trouble.

I like to play the "What If" game when I paddle alone. I make up situations in my head that could occur and then try to think through to the solutions. What I kept coming up with as I played this mind game with myself was that the Okefenokee has a fairly small margin for error. For instance, it would be almost impossible to attempt to leave the swamp in the dark. It would be total insanity to leave the swamp without your boat. It would be extremely dangerous to go far off the trail since the swamp can be a very disorienting place. It is not a place for stupid mistakes or haphazard planning either. Even under the best of circumstances, the luck factor can play a significant role.

The Okefenokee is a beautiful and forbidding place for us. It is a place to go to put some things into perspective. It illustrates for me how feather-bedded our existence has become; how far removed our daily lives are from the not so distant lives of our ancestors.. I didn't find myself missing things like TV or air conditioning but after 3 days without a shower or a glass with ice, I was shamefully looking forward to kingfisher landing.

It took me several days to write this trip report. I had difficulty putting into words the effect that the Okefenokee has had on me. I'm still not sure that I have done so. But what I am left with is a handful of pictures and memories of a place that I will never forget.


"I prefer to learn hard lessons through the misadventures of others."
Deb@nervm.nerdc.ufl.edu


Back to GASP's home page